Birr Multi Venue Autotest 2017
Results and Action now available here.
(Now includes more action from Gary Hogan)
Other
5 Star Catering National Loose Surface Autocross Championship results are now updated after Round 2.
Round 3 of the 5 Star Catering will be hosted by Monaghan Motor Club on Sunday 30th July. This is a new round being hosted in the Latton Track near Cootehill/Ballybay
more info here.
Calender and Club Championship
Dates for Club Events for 2017 are now available here.
Club Membership, Registration Form and Championship Details now also available here.
---
Birr Multi Venue Autotest 2017 Results & Action
Below are the results from Birr's MVAT based out of Sheerans Bar, Coolrain.
We'd like to thank the organisers, landowners and everyone involved for organising a great event and for the lovely food available all day in Sheerans Bar.
---
Birr Multi Venue Autotest 2017
Regs/Entry Form
Entries Received
James Mansfield
Kieran Garahy
Stefan Walsh
Eoin Longworth
Ciaran Garahy
Piers Mac Fheorais
Patrick O'Leary
Jane Garahy
Mark Walsh
Declan Donohoe
Colin Sheridan
Whitby Moynan
David Forde
Mick Boland
Zara Moynan
Mark Shanahan
Darren Delaney
Frank Lenehan
Damien O'Meara
Mark Reilly (Toyota Starlet WRC)
John Nolan
Dave McAulay
Dave Campion
Aoife Ryan
Michael Hogan
Damien Doran
John McAssey
Lar Hogan
Derbhaile Garahy
David Meeke
Jack Quinn
Tom Crowe
Richard Meeke
Conal O'Neill
Details:
The Birr Multi Venue Autotest will take place on the confirmed, changed date of 23rd July 2017
The event will be based in Sheerans Bar, Coolrain, Borris in Ossory, Co Laois. Breakfast will be available here the morning of the event.
Format:
The event will consist of 20 Tests at different locations, with low Low Road Mileage inbetween. Tests will be designed for Normal Production, Navigation Trial & Retro type Cars. 2WD Cars Only.
Navigators are NOT required, but Passengers can be carried (Over 16 years) and don't need a competition licence (CPA €5 Extra or €3 if passenger is aged 16 or 17).
VERY IMPORTANT - INSURANCE:

*** NO LISTING, NO START ***
All drivers must hold IRDS/BRDS(MSA licence holders) and be listed on the current IRDS scheme on www.motorsportireland.com.
There are no exceptions to this requirement. No listing, no start.
The onus is on the competitor to comply with the RTA.
H.Q:Sheerans Bar, Coolrain, Borris in Ossory, Co Laois.

Sign on: 8:45 am
Briefing: 9.45 am
Start Time: 10:00 am

OFFICIALS:
Clerk of the Course: Sean Keown
Event Secretary: Sean Henehan
Deputy Clerk of the Course: Mark Handcock
Results Officer: Ian O'Brien
MI Steward: Tim Faulkner
BADMC Steward: Oliver Stanley

---
5 Star Catering National Loose Surface Autocross Championship 2017
Updated 2017-05-27
Image courtesy of Pablo Photography
Championship Points
Revised Points after Round 2 of the 5 Star Catering National Loose Surface Autocross Championship.
Monaghan Autocross, Round 3
The Mayo round scheduled for the 23/7/17 of the 5 Star Catering National Loose Surface Autocross Championship has been cancelled.
It is being replaced by the Monaghan Autocross on Sunday 30th July in the Latton Track near Cootehill/Ballybay which will be Round 3. For those not familiar with Latton it is a purpose built Autocross Track owned by the County Cavan Motor Club with a 1 Mile Loop.
---
Munster Autocross Championship 2017
Regs:
Dates:
| | |
| --- | --- |
| Skibbereen | 19th February |
| Clare | 5th March |
| Clare | 21st May |
| Munster CC | 11th June |
| Skibbereen | 9th July |
| Killarney | 6th August (Grass Surface) |
| Imokilly | 15th October (Grass Surface) |
| Birr | 19th November |
| Limerick | 10th December |
| Cork | 27th December |
Skibbereen Car Club Autocross, Round 4
Round 4 of the Munster Autocross Championship will be hosted by the Skibbereen Car Club on Sunday 9th July. The venue is Keohanes Pit, Grancore, Clonakilty with check in starting at 8:30, practice at 10:15 and first car away at 10:45. Regulations, Entry Form & Accomodation List are available from Skibbereen Car Club. Contact Ian O'Brien 086 8678529 after 7pm in you are intending to compete.
See you for the next round in Clonakilty on Sunday 9th July.
---
Birr 2 Day Autotest Results - 13th/14th May 2017
Here are the results from the fantastic, well organised 2 Day Autotest that took place in Campion Concrete over the weekend.
Well done to all the organisers, marshals, timekeepers and competitors and anyone else who braved the varying conditions over the 2 days to make the event such a success.
Results
---
Motorsport Insurance Meeting
The following is a letter from Martin McKenna, Motorsport Ireland to all competitors regards insurance.
TO ALL COMPETITORS IN MOTORSPORT IRELAND EVENTS

Dear Competitor,

You are cordially invited to attend a meeting at 8.00 pm on Tuesday 23rd May 2017 at the Hodson Bay Hotel, Athlone, to enable Motorsport Ireland to provide information regarding the current arrangements for insurance and to hear your views as to how we progress from here. I look forward to meeting you then.

Martin McKenna,
President,
Motorsport Ireland.

---
Support Irish Motorsport Stickers
Just an update on the Support Irish Motorsport Stickers Sales. Stickers are priced at €20 and all proceeds are going towards Insurance Cover for 2017 & beyond.
With this in mind I would urge all members of the Birr & District Motor and their friends to purchase these stickers. Motorsport in Ireland is going through a though period at the moment so lets put our shoulder to the wheel to assist with this worth while venture.
Stickers Sales Outlets:
RAE Auto Factors - Dublin Rd, Roscrea.
RAE Auto Factors - Main St, Templemore.
Mike Garahy Tractor Sales - Miletree, Birr, Co Offaly.
Midland Tyre Services - Borris in Ossory, Co Laois.
Oliver Stanley Motors - Cork Road, Durrow, Co Laois.
Or Alternatively contact 086 8179297 or 087 0666663.
---
Birr Grass Autocross Results 2017
Here are the results after a wonderful day of autocross at Guteenakilla, The Birr Grass Autocross, opening round of the Naas Driving Academy Training Solutions National Autocross Championship.
Well done to both competitors and marshals who helped make the day a outstanding success.
---
Birr Club Championship 2017
Next Club Meeting
There will be no Monthly Club Meeting in June.
Next Club Meeting takes place on Monday 10th July 2017 in the Racket Hall Hotel, Dublin Road, Roscrea @8.30pm.
Register
To register with the club and join in the prestigious battle in the Club Championship, please follow the details found here.
Merchandise
Club Merchandise including Hats and Polo Shirt are also available for sale here.
Club Championship Structure 2017
---
Club Merchandise for Sale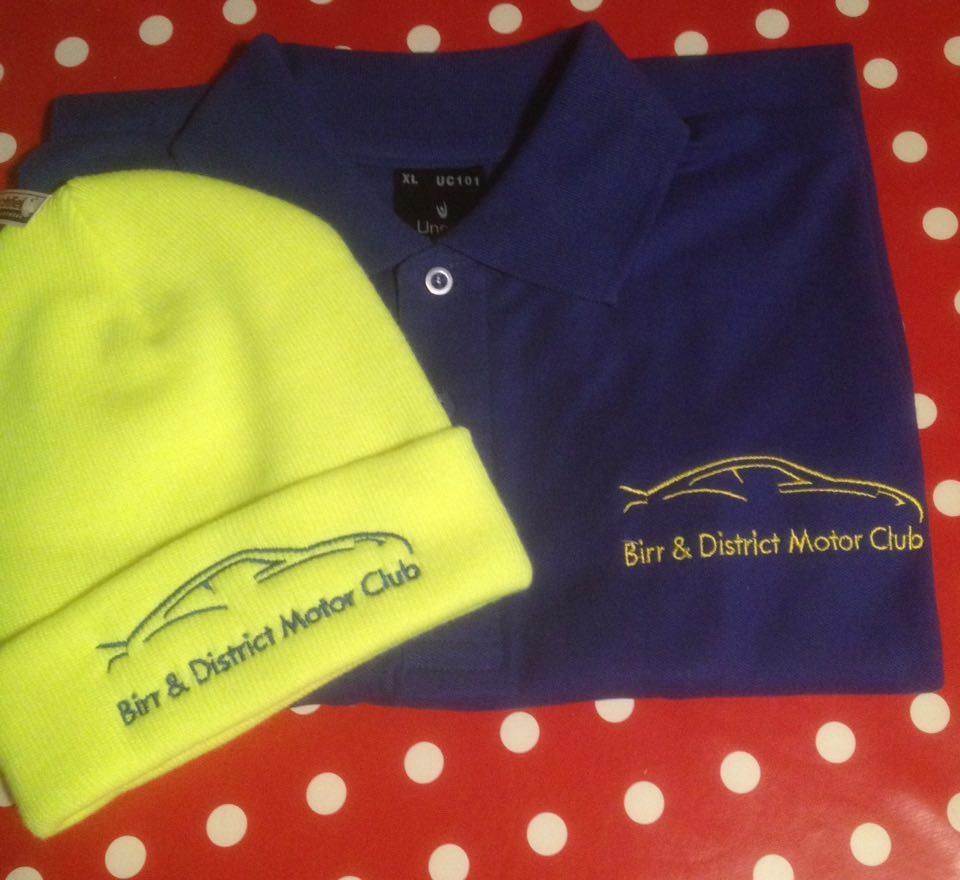 Birr Motor Club are pleased to offer Club Merchandise for sale.
The following are on offer:
Hat - €8 each
Polo Shirt - €15 each
Hat & Polo Shirt Combo - €20 each
Postage & Packaging Extra.
Contact Ger Conroy on 086 2538164 for more details and to place your order.
---